Some time ago my wife bought me a Sansa Sandisk Clip+ music player. When she asked me "what kind of MP3 player" I would like, I specifically specified the Clip+ because it could handle ogg vorbis encoded audio files. All my audio disks are encoded in this format. Picky I know, but there you go.
The version she bought me was the 8 GB Black which comes with (you guessed it) 8 GB of internal storage – sufficient for a fair number of audio tracks. But this version also has a microSDHC slot which will take a maximum of another 32 GB. That should enable me to carry most of my music collection (which currently runs to around 47 GB) if I cut out some of the obvious duplicates and exclude some of my more embarrassing '70s choices. The device is small, neat and light and also has a pretty good battery life.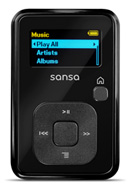 But Sansa have not been entirely honest in their advertising. Sure, the device will accept additional storage, but it is largely unusable. Once you get past around 6 or 7 GB on the internal storage and even as little as 3 or 4 GB on the additional card, the device is not capable of building its database of the collection. The symptom is pretty obvious. As soon as you disconnect the Clip+ from the USB connection used to transfer files (and incidentally to charge the device) the display shows "Refreshing your media" and a progress bar which slowly fills from left to right. If you only use the internal storage, there is no problem, but as soon as you get past the 3 or 4 GB additional store on the external card, the clip+ will sit there, refreshing away, for hour after hour if you let it.
Even after a firmware upgrade, the device wouldn't do what it was supposed to, so I turned to the FLOSS community yet again. This time in the shape of rockbox.
Rockbox is a free, open source jukebox utility which runs on a wide variety of devices. The website provides detailed instructions on how to install and use rockbox and even comes with an installer for most operating systems so that you don't have to get your hands dirty installing it manually. Most impressive of all however, is that the rockbox firmware can be installed alongside the original player's firmware without danger of bricking the device. If you find that you don't like rockbox (and what's not to like about a free product that outperforms the paid for original?) you can still boot into the original firmware because rockbox provides a dual boot facility. And if you really don't like it, then you can simply remove it and go back to using the original.
Thoroughly recommended.