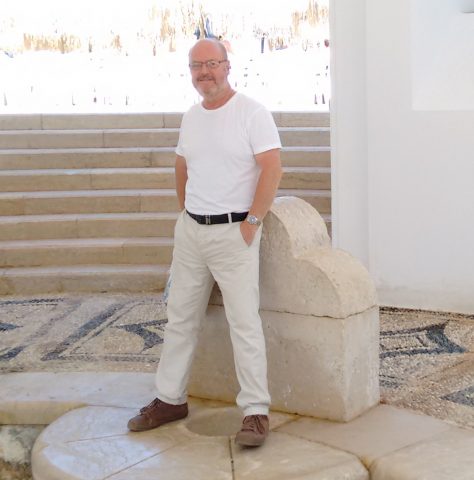 (Older, balder, but leaner.)
My corner of the web. It may indeed be trivial – but then most blogs are.
I am not a great fan of blogs. Before blogging became popular, people who wrote diaries used to do it in private and wash their hands afterwards (to misquote Heinlein). But occasionally I have found a blog which has been useful to me. Typically such blogs have been single topic or specialist sites devoted to descriptions of how the author has solved a particular problem.
This site may develop like that.

Or it may not……

(With grateful thanks to "user friendly")
In case it is not obvious from the general content, this site is dedicated largely to articles about the usage and versatility of the computer operating system popularly known as Linux and the applications which run on it. I am a passionate fan of free software.
I also care deeply about personal privacy and anonymity when using the 'net. I am a strong advocate of privacy enhancing technologies such as Tor. Indeed I care enough to fund both my own Tor nodes and two or three OpenVPN servers dotted about the 'net. If you wish to help my support of Tor and you are looking for your own VPS I can recommend DigitalOcean or Hetzner Online.
(I also support a number of "right-on" liberal activist groups such as the Open Rights Group, Amnesty International and Liberty. But mentioning that would simply make me a "self-righteous, posturing virtue signaller", so I won't).
Although this is most decidedly /not/ a political blog, occasionally I get cross enough about something to rant here. Forgive me. Or stop reading. The choice is always yours.
Anyone wishing to contact me can do so by email at my admin address (which if you are a human being rather than a 'bot, should be pretty easy to figure out). If you wish to send me private email, please use my GPG key. Note that as of 20 July 2012, I have upgraded my GPG key. The key transition statement may be found here. If XMPP is your communication mode of choice, then I also have an OTR key for my XMPP address. Alternatively, you can email (insecurely) me via this contact form.
I do not use any form of "social media", and even a cursory read of trivia will probably tell you why. So do not bother looking for me on Facebook, Linkedin, Google+, Instagram or Twitter etc. I'm not there.
I allow, indeed I encourage, comments on posts here. Furthermore, you do not need to "register" or set up any "account" with me in order to do so. Please note, however, that I actively screen all comments and will not permit spam. And as part of my anti-spam stance, I automatically refuse all comments on posts older than 28 days. But if you wish to comment on an old post, just contact me.
And for an historical perspective on me, see slashdot.
Any and all trademarks are the property of their respective owners. I am particularly grateful for the use of the Steve Bell "If…", Dr Fun, user friendly and xkcd cartoons used in this blog. Copyright resides with their respective authors. Unless stated otherwise, all other content on this site is licenced under a Creative Commons License. You are free to use original content from trivia so long as you attribute the source to trivia. You may not use any of this work for commercial purposes. If you alter, transform, or build upon this work, you may distribute the resulting work only under the same or similar license to this one.
Note that I operate this blog under the terms of a privacy policy designed to protect your privacy whilst still allowing me to record such statistical information as I deem necessary and useful to the operation of this site.
Enjoy.
Mick Morgan