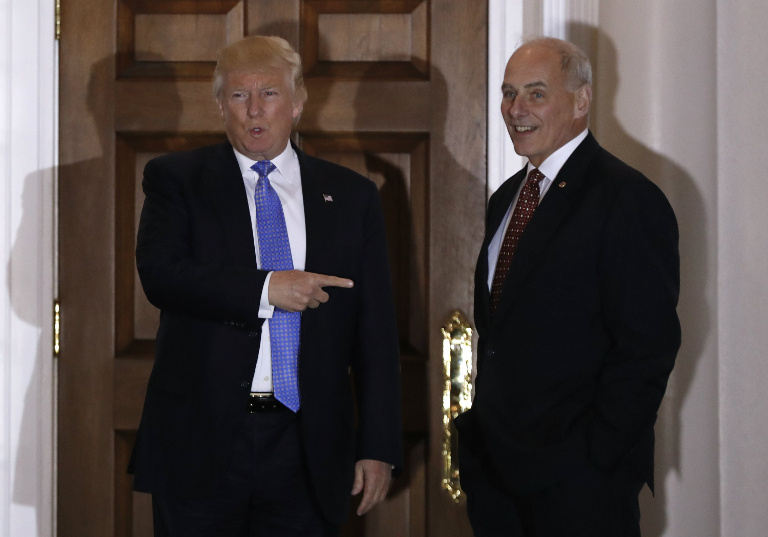 No, I mean the one on the right – the one Trump is pointing at.
General John Kelly is just one of Trump's controversial appointments (and not necessarily the worst) and I guess that by writing this now, I have finally nailed down the lid on the coffin of my ever returning to the US. Pity. I had promised my wife that I would take her to San Francisco in the near future so that she could see for herself why I like it. I've visited the USA several times in the past, but only on business and never with my lady. Now it would seem that I cannot go, because I will not submit her, nor myself, to the indignity of being treated like a criminal simply because I wish to enter the country.
Today, El Reg reports that General Kelly has said that he wants the right to demand passwords for social media and financial accounts from some visa applicants so that immigration and homeland securty officers can vet Twitter, Facebook or online banking accounts.
Kelly is reported to have said:
"We want to say 'what kind of sites do you visit and give us your passwords,' so we can see what they do. We want to get on their social media with passwords – what do you do, what do you say. If they don't want to cooperate then they don't come in. If they truly want to come to America they'll cooperate, if not then 'next in line'."
Now as El Reg points out:
"By "they", Kelly was referring to refugees and visa applicants from the seven Muslim countries subject to President Trump's anti-immigration executive order, which was signed last month."
But it goes on:
"Given the White House's tough stance on immigration, we can imagine the scope of this "enhanced vetting" creeping from that initial subset to cover visitors of other nationalities. Just simply wait for the president to fall out with another country."
Or for individuals to draw attention to themselves by being publicly critical of some of the more worrying developments in the USA…..
My own experience of US immigration, even whilst travelling under an A2 Visa, is such that I would most certainly not wish to enter the country if I were to be treated with anything like the hostility I know could be possible. Unfortunately that also means that I might have a problem should I ever wish to fly anywhere else in the world which necessitates a stopover in the US.
The reason I think Kelly may be truly scary? He is reported to have told Representative Kathleen Rice under questioning that:
"I work for one man, his name is Donald Trump, and he told me 'Kelly, secure the border,' and that's what I'm going to do,"
In typical El Reg commentard style, some responders have been less than subtle about this response, evoking obvious references to Godwin's Law, but one poster, called Jim-234 notes:
"This is a truly stupid plan that is bound to fail on so many levels and will do nothing but upset decent people and open them up to hacking & identity theft while doing nothing to actually stop people who want to cause harm. It reeks of lazy ignorant fools who want to be seen to do something rather than actually do something that works…..

"This is just going to be security theater and bothering everyone and invading their privacy for no net effect at all. As soon as it goes live, all the bad guys will know they need a clean profile online, there will probably even be special paid services to make your online profile all nice and minty fresh, probably even with posting and messaging "good" stuff to make sure you look nice online."
Jim-234 concludes:
"They want to start demanding your passwords for your phones & laptops?

.. well pretty soon all they will find is factory reset phones, laptops with a never used OS and a new booming business for Chinese, Russian and European data centers of "whole system data backups".

The only good news is that if this goes live, everyone will probably start scrubbing their Facebook profiles to be about as informative as Zuckerberg's page… so maybe then Facebook will finally go the way of MySpace."
Depressingly, I see the same tendency in the UK for security theatre because politicians think "we must be seen to be doing something" in order to make the people feel safer. As the saying goes, "the road to hell is paved with good intentions".
And what about when the intentions themselves are not good?