I noted in an earlier post that Linksys were ceasing production of the NSLU2. There are now a variety of NAS systems coming onto the market which might make good replacements – but most of them look expensive when compared to the slug. However I've just seen a review of a box which looks as if it might be just up my street – the oddly named CherryPal PC, based on Freescale's MPC5121e mobileGT processor.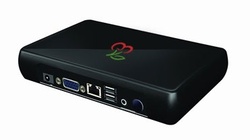 The specs look very interesting – indeed, if the press release at Marketwatch.com is to be believed, the box has "256GB of DDR2 DRAM" to go with the 800 MIPS Freescale's MPC5121e processor.
Methinks this may be a typo.