I came across a potential new entry to the "slug replacement" competition today in the shape of a 2GHz Sheeva Marvell based plug computer by Ionics called the Nimbus 2000 (all the company's products seem to be named after cloud types – wonder why).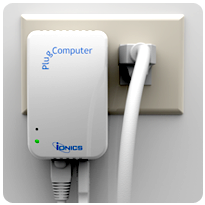 In addition to that rather fast ARM CPU, this little beast boasts: 512 MB DDR2 RAM at 400 MHz; 512 MB NAND Flash; one USB 2.0 port and a Gigabit LAN port. The plug apparently runs a 2.6.23 kernel in a custom embedded linux. Now if we can get debian onto that little thing (as is the case with the 1.2GHZ sheevaplug from Global Scale Technologies), it looks like being an attractive proposition for anyone wanting a small, but powerful web or file server.
But, whilst I was scanning the company web site I was struck by their "careers" page. Here's a sample:
DESIGN LIBRARY ENGINEER II
• Female
• Bachelor's degree in Computer Engineering or Electronics & Communications Engineering
• Strong background in electronics engineering
• At least 1 year experience in design library with emphasis on schematic symbol and component footprint creation
• Preferable with experience using Mentor PADS, Cadence OrCAD, Cadence Allegro or equivalent EDA tools
and
ODM QUALITY ASSURANCE MANAGER
• Male
• Candidate must be a graduate of BS Engineering
• Background in electrical or electronics is desirable for this position.
• Must have experience in Original Equipment Manufacturer / Original Design Manufacturer.
• The candidate must have demonstrated previous supervisory experience.
• Strong computer skills to oversee electronic quality management systems including document control and CAPA.
• Willing to be assigned in Calamba City, Laguna
I suppose they must have some odd policy of balancing the sexes across the disciplines. At least they are not advertising for "Secretary – female" and "Engineer – Male" as we might have done a few years back.