In 1909, Franz Kafka wrote the "Inclusion of Private Automobile Firms in the Compulsory Insurance Program" as part of "The Office Writings". His experience of tortuous bureaucracy in Insurance and elsewhere was later reflected in one of his most famous novels "Der Process" (known in English translation as "The Trial").
Back in October last year I bought another motorcycle to go with my GSX 1250. I'd just sold three other older bikes and felt the need to fill up the resultant hole in my garage. Besides, a man can never have too many motorcycles. At the time I bought the new Yamaha I spoke to my insurers about getting it added to my existing policy. Unfortunately they had recently changed their systems and I could no longer have one policy covering both bikes. So I took out a new separate policy. Oddly enough, that policy cost me twice as much as I paid for cover on the GSX, a bike with over twice the power and a lot more grunt than my new Yamaha. I was told that whilst /I/ was still the same risk, the underwriters assumed that my Yamaha was a riskier vehicle to insure. The ways of insurers are odd indeed and beyond the ken of mortal man.
For the past few months, both my bikes have been wrapped up warm and dry in my garage awaiting a change in the weather so that I no longer have to use the car for everything. This turns out to be a very good thing indeed.
A couple of days ago I received a letter from the Motor Insurer's Bureau and DVLA. That letter, headed "Stay Insured, Stay Legal" gave the registration number of my Yamaha and stated, in red, "Do not ignore this letter" and went on to say "To avoid a penalty, you will need to take action immediately". "The record of insurance for your vehicle [REG NO] does not appear on the Motor Insurance Database (MID) and this means if you take no action, you will get a fine."
The letter also explained that it was my responsibility, as registered keeper, to ensure that my bike was insured. If I was certain that my bike was insured, I was instructed to "contact [my] Insurance provider" since "MIB and DVLA cannot update your records on the MID".
Pretty worrying and very specific about what I needed to do. So, firstly I checked the MID at "askmid.com" and sure enough, my bike did not appear.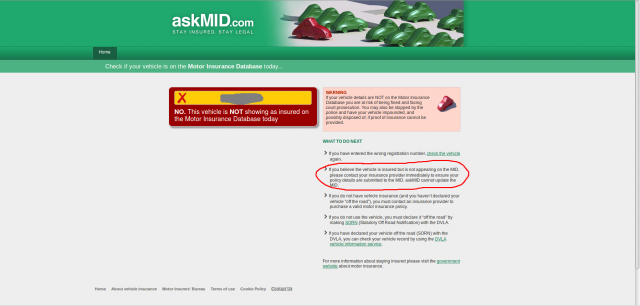 I then 'phoned my Insurers who confirmed that I was insured and had been since October of last year when I took out the policy. I explained that I knew that was the case because I had the policy in front of me. But that didn't help me because both DVLA and the MIB believed otherwise. Worse, the MID is used by the Police who will therefore similarly believe otherwise. Worse even than that, is the fact that an extract of the MIB database is supplied for use by ANPR cameras across the UK (See www.mib.org.uk). This means that I only have to pass an ANPR (which I do – a lot) whilst riding that particular bike to almost guarantee a police stop. I therefore asked my insurers to do what the MIB suggested and update my records. No can do, say my insurers. According to their systems I /am/ already on the MIB. After several, rather fruitless conversations (they called me back, I called them again) they suggested that I call the MIB. I explained again that the MIB had clearly stated that /they/ could do nothing, it was down to my insurer and them alone to ensure that my records were correct. Furthermore, the askmid website reinforces the message that "askMID and MIB do not sell insurance nor can we update the Motor Insurance Database (MID). These services are provided by your chosen insurer or broker".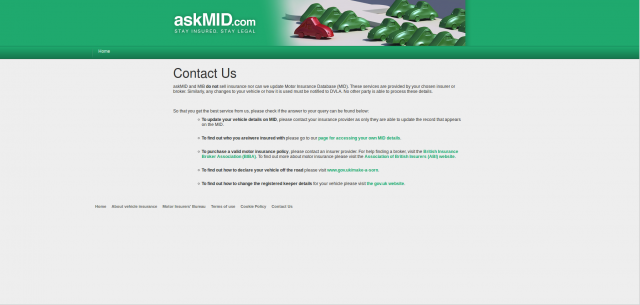 Nevertheless, since I was getting nowhere with my insurer, I agreed to try to speak to the MIB and, if necesssary, get them to talk to my insurer. Here, dear reader, is where the situation spirals further into the absurd. The letter from the MIB gives a contact telephone number which is completely automated. That advice line (you know the type, "press 1 for this option, 2 for that" etc.) eventually gave me the advice I had already received from the MIB letter and the askmid website – viz: "We cannot do anything, you must talk to your insurer". So I went back to my insurer. You will not be surprised to read that my insurer, whilst sympathetic and understanding felt that they had done their bit and the fault lay elsewhere.
Now, as a paying customer of a (compulsory) service I don't care where the fault lies. My only point of leverage is with my insurer. I pay them for a service which does not simply stop with them issuing cover. They must also ensure that the relevant databases are kept up to date. This requirement is laid upon them by Statutory Instrument no 37 of 2003 – "The Motor Vehicles (Compulsory Insurance) (Information Centre and Compensation Body) Regulations 2003".
The person I spoke to on my third, or possibly fourth, conversation with my Insurer suggested that in order to show that I /was/ fully insured I should carry a copy of my policy with me at all times when riding my bike.
This completely misses the point. It is a legal requirement for my bike's records on the MIB database to be correct. Only my Insurer can do that. If those records are not correct, I face the almost certain chance of being stopped by the police. Now whilst I can (if I remember to "carry my papers" in the correct Orwellian manner) show the Officers stopping me that I /am/ insured, that will have wasted my time and the Police Officers' time.
Not good. Not good at all. I'm sure Kafka would have understood my frustration.
And guess what may happen when the time comes for me to renew my insurance – on all my vehicles.