Being a linux and FLOSS fan has its advantages, not least the fact that most, if not all of the software I would want to use (and indeed, /all/ of the software that I actually do use) is free as in beer as well as free as in speech. And given the much smaller target offered by my chosen desktop in comparison to the widely used proprietary offerings, my systems are amost entirely unbothered by malware.
Most of my friends use proprietary systems. A few insist on paying over the odds for Apple products and, perversely, seem to take some pride in doing so. One or two even seem to think that simply buying Apple products marks them as more discerning, cultured and intelligent than the great unwashed who buy their systems from PC World.
In the course of a recent series of email exchanges on this topic, I was therefore delighted to receive this image from another friend. I know he uses windows 7 – I've seen it.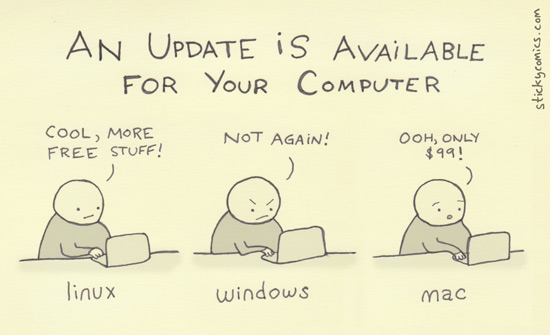 (copyright "stickycomics.com" gratefully acknowledged.)