Standalone IP cameras have come down in price quite remarkably over the past few years. It is now perfectly possible to get a camera for between £50.00 and £75.00, and this makes them attractive for anyone wanting to set up simple "home surveillance" systems. I bought one recently just to see what I could realistically do with such a beast. I chose the TP-Link TL-SC3130G,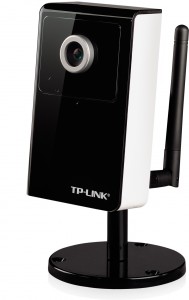 which goes for around £60.00. I bought mine from amazon. I chose this particular camera because, on paper, it looked to have a good specification at a keen price point. According to the TP Link website, the camera's highlights include:
54Mbps wireless connectivity brings flexible placement
Bi-directional audio allows users to listen and talk remotely
Excellent low light sensitivity ensures good video quality even in the dawn
MPEG-4/MJPEG dual streams for simultaneous remote recording and local surveillance
plus an impressive list of protocol capabilities all in a reasonably compact and attractive hardware package.
When the camera arrived I was pleased to find that the hardware was indeed quite solid and attractive. Such a shame I can't say anything good about the software though.
As you would expect, I had to first configure the camera over a wired link. By default the camera comes up on 192.168.1.10. The login credentials are the usual "admin/admin" – which is the first thing you should change, but sadly I'll bet that few people bother. The web interface presents the user with a set of configuration menus on the left of the screen and an image taken from the camera towards the centre of the screen. The software assumes that the user has IE and ActiveX running so for those of us with more sensible setups, some of the configuration and control options on the camera (such as snapshot, zoom and audio volume control) are unavailable. No matter, the important thing from my point of view, and the reason I bought this camera rather than its slightly cheaper brother, the SC3130, is the supposed wireless capability. At first sight, the camera and network configuration options look surprisingly comprehensive. In fact, I'd go so far as to say that the list of options available might confuse a user who had little networking experience. For example, besides the obvious options to set new static IP addressing or change to DHCP, you can change HTTP, RTP and RTSP ports, set up multicast streaming, change the multicast address, change the ports used for video and audio streaming, set viewer authentication, set the camera to use PPPoE and dynamic DNS and even send users an alert via email containing the new network settings (such as IP address) should these change. Of course, in order to do so the user must first configure email on the camera. Altogether an impressive looking range of capabilities. Again, such a shame they don't all work.
Annoyingly, the web interface sometimes simply refused to accept changes or the system reset the changes after reboot, I first noticed this when changing the camera's clock setting to sync with the time on my PC. It simply refused. NTP worked eventually, but it tended to stop working for no apparent reason. But by far the worst fault was in the WiFi stack. WiFi configuration options were all accepted and it was soon possible to connect wirelessly both to configure the camera and to view either a video stream or a still image. However, as soon as the wired connection was removed, both interfaces went down. Nor was it possible to connect wirelessly if the camera was booted without a cable inserted. Now it is pretty pointless to have a WiFi camera that insists on having a wired connection present as well and I couldn't believe that no-one had tested this so I assumed that there was some way to get the thing working. Besides I hate being beaten. So I spent what was, on reflection, a disproportionately silly amount of time playing with various configuration options (DHCP vs static addressing, various combinations of UPnP and no UPnP (which involved me changing my router configs as well), changing various network port numbers, all to no avail. I searched the manufacturer's website in case there was a new firmware image I could try, but that was a waste of time because the image on the website (1.6.17 dated 29 October 2010) was older than the firmware on the camera (1.6.18 dated 17 March 2011).
After trying umpteen variations of settings, at one point the camera froze completely and refused to boot. I had to resort to a hardware reset to get the thing back up again. Here it got weirder still. The camera came back up on 192.168.1.97 and not the default 192.168.1.10 (I found it with a sniffer). God help the average punter trying to get this thing to work.
I sent it back, and amazon refunded my money. Do yourself a favour. Don't even think about buying one.