Along with the longer term upward trend in the usage in tor I noted below, there has now been a large, rapid rise in the number of connected tor clients in the last week or so.
The tor usage statistics graphs show a dramatic doubling of daily connected clients (from around the 500,000 mark to well in excess of 1,000,000 since around the 18th or 19th of August.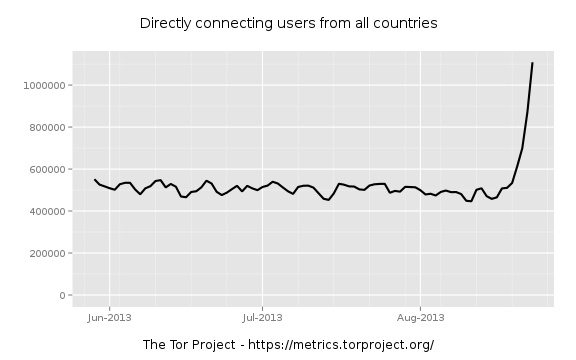 If we look at the same statistics for UK client usage we see a jump from around 16,000 to over 32,000.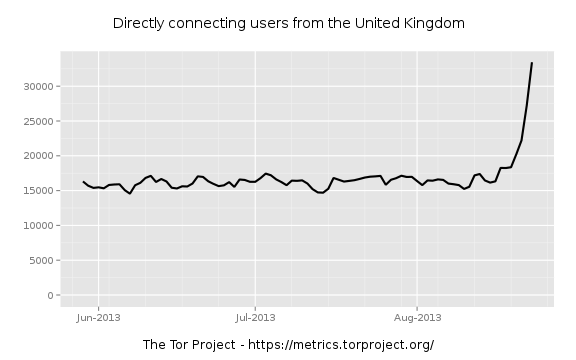 and in the US we see a rise from just under 100,000 to around 140,000.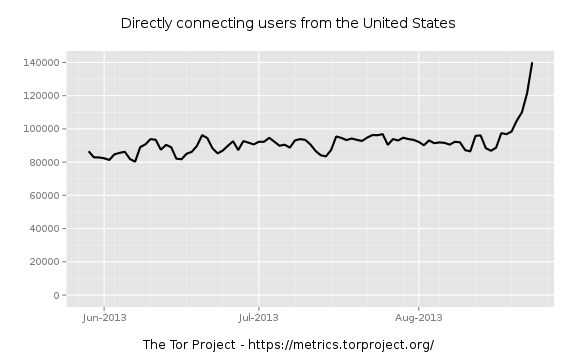 Given such a very sharp and unexpected rise in the number of clients with no corresponding jump in the number of relays or exits we should expect a noticeable degradation in the performance of the network. However, the performance statistics for the same period merely show a slight worsening in the times taken to complete a 50 KiB request over tor.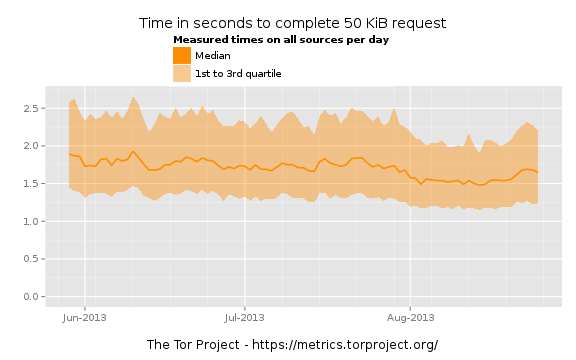 As Roger Dingledine notes in a post to tor-talk today, it is hard to say whether or not that slight worsening is a real difference.
As yet, no-one on the tor project seems to have a firm view on the reasons for this particularly steep rise at this particular time. Dingledine speculates that the recent release of a browser bundle by the Pirate Bay (a release which is not endorsed by the tor project) or alternatively a botnet could be responsible, but neither seems to me to be that plausible. Pirate Bay users are notorious for their desires to access .iso images of videos, particularly over bittorrent. Whilst many exit relays specifically exclude the usage of torrents, I think a flood of Pirate Bay users on the scale noted would have had a much more serious impact on tor network performance than seems to have been the case. Similarly, if a botnet of the magnitude of around half a million clients suddenly started to use tor (probably in an attempted DDOS of some unfortunate target) I would expect to see a much greater impact on the network than a slight slowing of file retrieval times.
The next few days should be interesting. Might we see a spate of complaints about "attacks" from tor (lending credence to the botnet theory)?